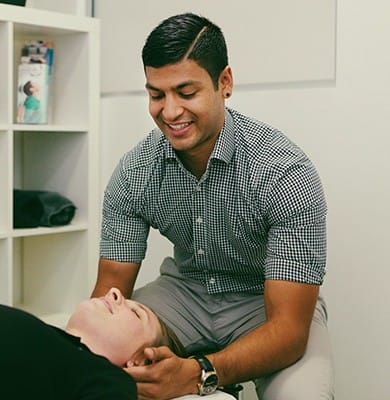 Dr Salesh Dheda
(Fully Qualified and Licensed Chiropractor)
Born and raised in Auckland, Salesh was surrounded in a diverse city with a rich culture. He always found himself active and had a strong passion for health and all sports. He took up hockey from a young age, in which he went on to play at a representative level for over eight years. After learning more about health Salesh became very interested in the nervous system and its function. This created the path for his passion in Chiropractic. Studying at the New Zealand College of Chiropractic he was immersed with an education by some of the leaders of the profession. He loved his journey in becoming a qualified Chiropractor.
Salesh has a natural ability to really understand his patients. He focuses on each individual and their specific health concerns, working to restore their health and function at an optimal level. It is his belief that everyone can benefit from Chiropractic care. Salesh has very strong interests in exercise, nutrition and rest, which combined with Chiropractic care, forms the four major keystones of health. His connection and understanding of Chiropractic is what motivates him every day. He believes there is no greater feeling of delivering a Chiropractic adjustment and knowing its positive effect on the human body.
To book an appointment with Dr Salesh, Chiropractor call 3369 0110 or click here to book online.