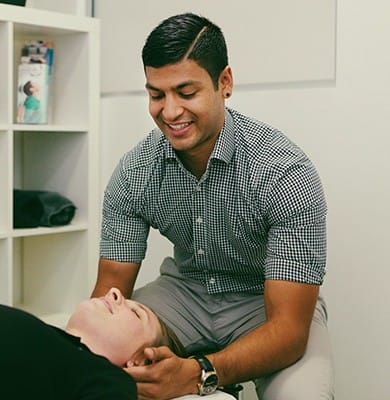 Dr Salesh Dheda
(Fully Qualified and Licensed Chiropractor)
Introducing Dr Salesh Dheda, chiropractor and healer extraordinaire. Dr Dheda is a man with a passion for health and healing, who has dedicated his life to helping others achieve their best health possible.
Dr Dheda is originally from Auckland, New Zealand, where he was raised in a culturally diverse city with a rich culture. He always found himself active and had a strong passion for health and all sports. He took up hockey from a young age, in which he went on to play at a representative level for over eight years. After learning more about health, Salesh became very interested in the nervous system and its function. This created the path for his passion in Chiropractic. Studying at the New Zealand College of Chiropractic he was immersed with an education by some of the leaders of the profession. He loved his journey in becoming a qualified Chiropractor.
Dr Dheda has a natural ability to really understand his patients. He focuses on each individual and their specific health concerns, working to restore their health and functionality. His gentle nature and skillful hands have helped many patients recover from injuries and illnesses they thought were insurmountable. Dr Dheda is truly dedicated to his work and it shows in the wonderful results he achieves with his patients.
If you are looking for an excellent chiropractor with years of experience and a real passion for healing, then look no further than Dr Salesh Dheda. Book your appointment today and start feeling better than you ever thought possible!
To book an appointment with Dr Salesh, Chiropractor call 07 3369 0110 or click here to book online.